My Account

---
Creating a New Account

---
DriveHQ offers easy one-step registration. Click "Sign Up Free" on the home page. Read the "Terms of Service" and proceed to enter your account name, password, email address and optionally more user info. Your new account is created instantly online; a confirmation email will be sent to your email address. You can click on the activation link in the email to activate your account. If you don't receive the activation email in 5 minutes, please make sure to check your junk / bulk email folder as emails might be filtered. If you still cannot find it, please try a different email address. You must be able to receive DriveHQ email to activate your account.
There are mainly 4 types of user accounts on DriveHQ:

---
Free Account

:

Any user can sign up a Free Account with a valid email address, and the service is free.

True Account

: (It's still FREE!)

If we can confirm the member's information, the account type will be upgraded to True Account. The service is still free and is also subject to certain feature restrictions. The main difference between a Free and a True member is "Free members cannot publish files, folders or websites".

How to become a "True Member" There are two ways:

Use a real company email or paid email as your registered profile email address; (Don't use free or ISP email accounts from Yahoo, Hotmail or AOL, etc.;)
Deposit at least $3 into your account;




Paid Account

:

You can become a paid member to enjoy our "premium" services. You can subscribe online. Just logon, go to My Account --> Subscribe . A Paid Account has all the benefits of a True Account, plus:

More features with less / no restrictions;
Better service and better support;
Can host personal or small business websites;
More storage space and more monthly download bytes;
Get free FTP hosting and online emails.

In essence, a Non-Paid account is only suitable for personal and casual use; while a paid account is suitable for professionals and businesses.


Group Account

:

Group Account is an add-on service. It is extremely useful and flexible. Better, it is free and offers one free sub-user license. To upgrade, logon www.drivehq.com, go to My Account, then go to Group Account. If you need more sub-users, you can order more sub-user licenses, which is extremely low priced.

Add / create / edit / delete / disable sub-users;
Allocate storage and download bytes quotas for sub-users;
Create folders in your own account and share different folders to different users / groups with different levels of access rights;
Change sub-user username, password, email address or logon as any sub-user;
Difference between three types of account

---
| | | | |
| --- | --- | --- | --- |
| Features | Free account | True account | Paid account |
| Upload/Download | Yes | Yes | Yes |
| File Sharing | Yes | Yes | Yes |
| Publishing | No | Yes | Yes |
| Forum | Yes | Yes | Yes |
| Email | Yes | Yes | Yes |
| Storage space | Limited, 1GB | Limited, 1GB | Unlimited, you can choose a subscription plan. |
| Bandwidth | Limited per month. | Limited per month. | Unlimited, you can choose a subscription plan. |
| Service Charge | Free, sign up with a valid email. | Free, sign up with a real company email, or deposit at least $1 into your account, or make any one product order. | As low as $4/month |
| Suitable for | Personal use | Personal use | Personal, professionals and small businesses |
Managing Your Account

---
You can easily manage your DriveHQ account directly from www.DriveHQ.com. To manage your account, log on to DriveHQ and select My Account on the tool bar. The account details page will appear. From there, you can: view and update your account profile; view your account balance; view your account transaction history; Subscribe to our paid service and become a "Paid User", or cancel subscription online by clicking on "Current Subscription" from the Subscribe page.
View and Update Account Details
---
Log on to DriveHQ.com and click on "My Account". This page displays your account profile info.

How to change your account profile info?

You can update your profile at any time. Please note, your username cannot be updated directly. If you are a paid user, we can help you update it. Your email address must be real and unique and must be able to receive DriveHQ activation email.

Similar to new user registration, changing your email address requires a verification process. After you've changed your email, click on Submit. Then the system will send a verification email to your email address registered with DriveHQ. Please click on the link to confirm the changes.

How to change my account password?

Click the link "change my password" to change your DriveHQ password and the change Password page will appear in the Display Area.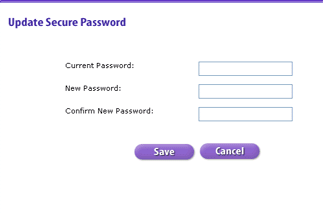 You should select a password that will be easy for you to remember, but hard for others to guess. It is a good idea to use a combination of letters and numbers when choosing your password. When you have finished entering all required info, click on the save button to save your changes. A confirmation that your password has been updated will appear in the Display Area.

Remember that your password is case sensitive. Double-check to make sure that you do not have "Caps Lock" turned on before entering your password unless you want your password to be capitalized.
---
You can check your total number of files, total storage usage, free storage space, account cash balance, etc. from the "Account Balance" page. Just click on the "Account Balance" link from the "My Account" page. In this page, you will see:
Member Since: your register date which DriveHQ uses as the billing date.

Total Logon Times: self is the time you logon to your account; visitor is the time your share be accessed.

Cash Balance: money deposited in to your account. It can be used for all the DriveHQ services. Click here for more info.

Service Coupon Balance: DriveHQ uses your sign-up date as the monthly billing date. If the first billing month service period is less than one month, we will charge you 1 month Service fee, but credit the over-payment to your Service Coupon Balance. Your next monthly service charge will be automatically paid on your monthly billing date from your Service Coupon Balance first and your cash balance next.

My Total Points: When a member you referred purchases DriveHQ services or software products, the information is recorded in the transaction history; At the member's monthly statement closing date, the sum of the purchase amount is calculated. Your account will earn referral points based on the commission rate. If your commission rate is 20%, then you will earn 20 points for every $1 of the referral sales amount. 100 points can be redeemed to $1 of your Account Cash Balance, which can be used to pay for DriveHQ services or products. You can request for cash payment when your new commission has reached $20.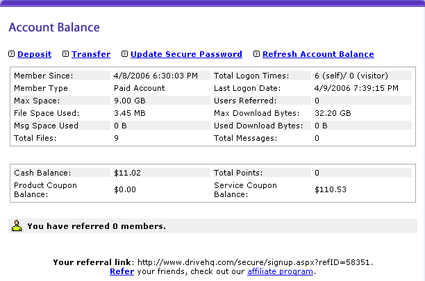 If you are a vendor or a content provider, and you have generated some sales revenue on DriveHQ.com, you can check the balance and withdraw money from this account. You might also generate commission through our referral program. A list of paid account you referred is displayed in this page as well.
Update Secure Password: Secure password is used to double protect your account. The default is your account password. You can click on the link to change it.
Refresh Account Balance: Refresh your account balance after your make changes.
---
Group Accounts are optimized for organizations and small businesses. You first create a Group Owner (and Administrator) account, then you can create and add more group member accounts. The group administrator can assign the maximum storage space and monthly download bytes to group members. The Group Administrator can also disable a group member or delete it from the group. Group members can easily share folders to all group members using the Share-to-group feature.
To create your group, click on "My Account"->"Group Account " , you will see the "Upgrade to Group Account" page, click on "Upgrade to Group Account" . Read over the Terms of Service and click on Upgrade. Your account is seccussfull upgraded to Group Account and you can manage your group immediately.
In the Group Admin page, click on Create Sub User to create your group member, shown as below: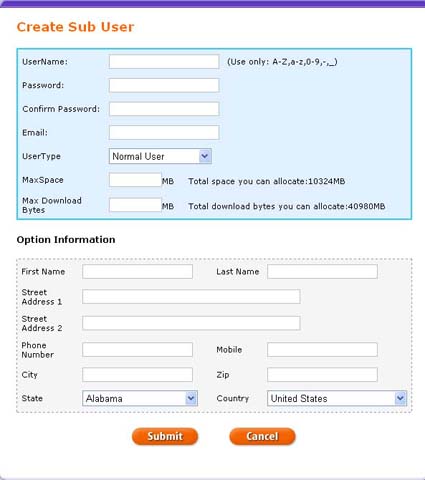 You can assign any space and max download bytes from your account storage to the sub user. Please input all required dialog boxes above. Once you finished, Click on Submit , the system will create the group member. Please note, by default DriveHQ offers one free sub-user license. If you need to add more group members, you should order group user licenses.

After you successful create a member, you will see the edit member page. You can manage the options of the group, for example: add existing user, create ueser, disable/enable, delete, logon as, allocate storage, etc.
---
You can deposit money into your account from this page. Please read our Terms and Agreements before making any deposits or withdrawals from your account. In general, your "account cash balance" can only be used to purchase DriveHQ services or transfer to another DriveHQ Member. Special arrangement can be set for professional members or small business accounts. You have 3 ways to deposit or prepay:
Pay by PayPal
Pay by credit card
Transfer funds from another DriveHQ member
---
You can transfer funds to other members free of charge. Click on "Transfer" link from " Account Balance" page, shown as bellow: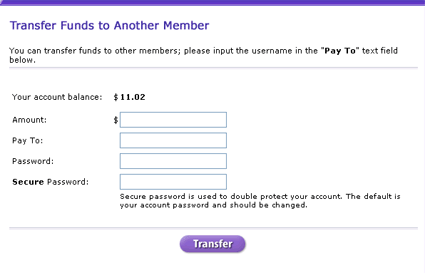 Free accounts include 5GB storage space. If you need more storage space, or if you have a heavy-traffic website, you need to subscribe to our paid service. The service price is extremely low (from $4/month for personal service); you get 64GB storage space and lots of high-end cloud features.
How to subscribe to our service?
If you need more space, you can easily subscribe to our paid service at any time by logging on to your DriveHQ account and selecting "My Account" --> "Subscribe".
What are the available service plans?
The following plans are availabe for personal cloud storage service:
| | | | |
| --- | --- | --- | --- |
| STORAGE | DOWNLOAD BYTE | MONTHLY PRICE | YEALY PRICE |
| Personal Basic Plan | 64GB | $4 | $40 |
| Personal Plus Plan | 256GB | $8 | $80 |
| Personal Pro Plan | 1TB | $16 | $160 |
DriveHQ can offer unlimited storage space. DriveHQ Business Plans are priced based on your number of users. These plans usually include huge amount of storage space. If you need even more storage, please contact DriveHQ Sales. We are very happy to work out a deal for you. We recommend ordering a yearly service; you can save 2 months per year.
---
Click on "Transaction History" in "My Account" page, you will have access to the transaction history, sales history, order history and statement list. If you are a regular free user and have neither purchased anything nor accessed any fee-based contents, you will have nothing to show in this section. If you purchased anything, then you can see your order history.
We are trying very hard to help you, if you have any questions or recommendations, please feel free to email moc.qhevird@retsambew.