DriveHQ's Drop Box Folder Feature
---
DriveHQ's Drop Box Folder feature is very different from other drop box services. Simply put, it allows other people such as your customers, clients, and partners upload files to you instantly, without having to log in. All you need to do is create a drop box folder and send them the drop box URL!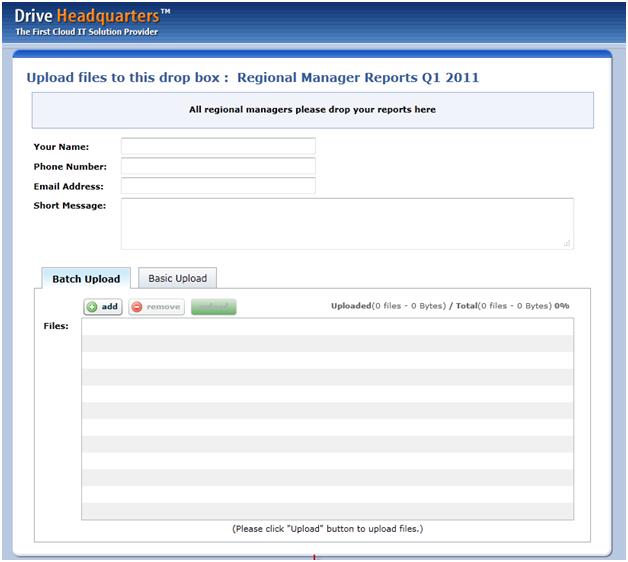 Drop Box Page
Creating a new drop box folder
---
First, you need to select a folder you want other people to drop files. You can choose an existing folder or create a new one. For this example, we will create a new folder.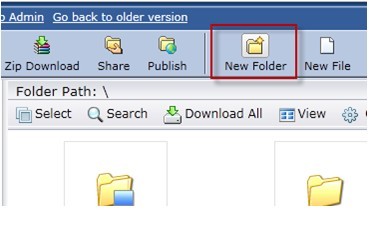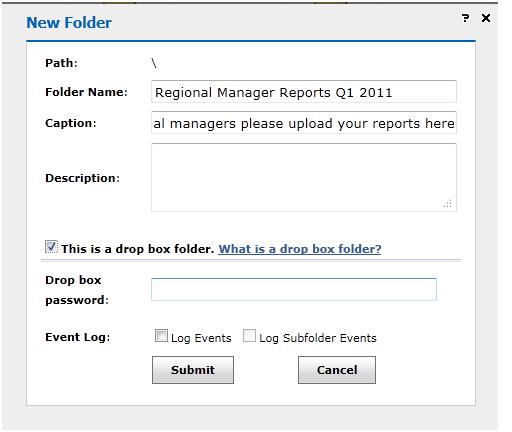 Type in a folder name. The caption and description fields are optional, but please note it is a good idea to fill them in if you want to provide a message to your uploaders.
Select the option "This is a drop box folder".
Password protecting a drop box is optional.
Click Submit to finish. The new drop box folder is now in your storage area.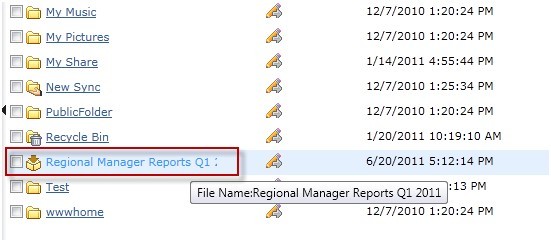 To view the drop box URL or to edit the drop box folder, hover over the Action icon and select edit.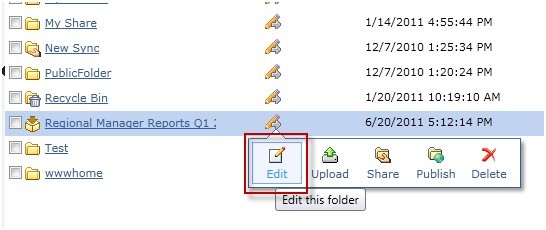 Uploading (dropping) files into a Drop Box
---
To upload files into a drop box, copy and paste the drop box URL into your web browser. You can give the drop box URL to anyone or even put it on your website if you have one. Anybody can securely upload files to you using the drop box U
If the drop box is password protected, you will be prompted to type it in. Otherwise, it will display the drop box page directly. Please note the files dropped into a drop box is always secure even if it is not password protected. A drop box folder is an upload-only folder for all other people except the drop box owner. Adding a password to a drop box prevents unauthorized people from dropping files into the drop box folder.
On the drop box page, only the name is required. The name will be used for a new folder that will be created to contain the uploader's files. The phone number, email address, and short message fields are optional, but are recommended so that the drop box owner can better identify the uploaders and their files.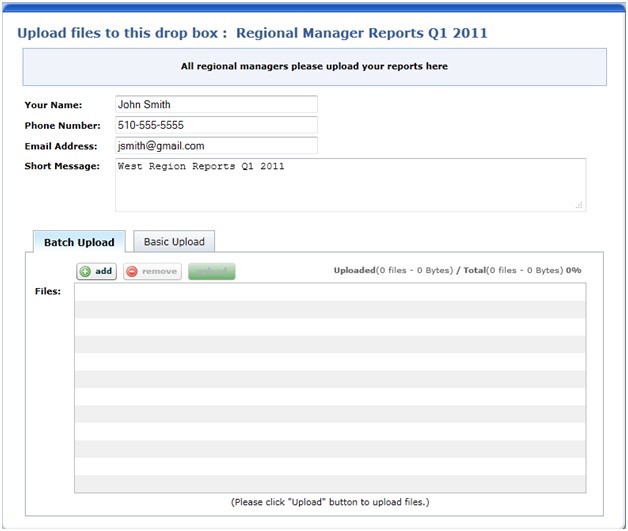 To select multiple files for upload, Click Add. Using batch upload, you can select multiple files by holding the Ctrl or Shift button.
If your browser does not support Flash, you can also use "Basic Upload". You can select files one by one and then upload the selected files.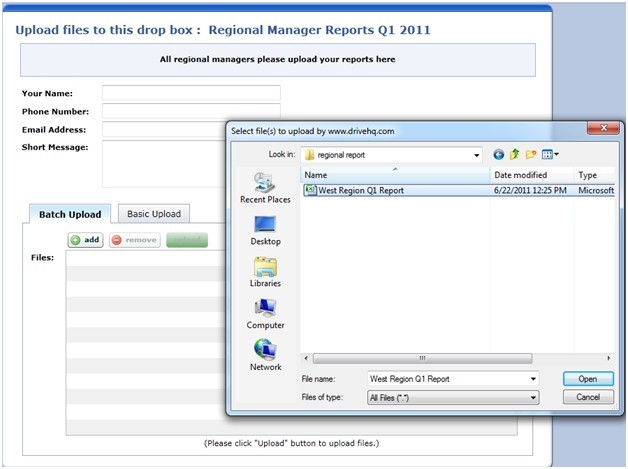 When you're finished making your selection(s), click the upload button to begin upload. When the upload is complete, you will see a pop up confirmation.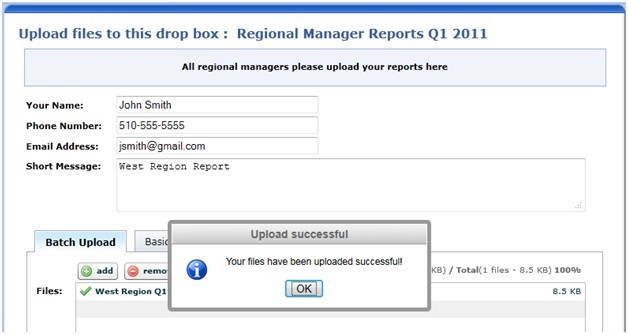 Accessing Files Uploaded to a Drop Box Folder
---
Only the Drop Box owner can access files in it. Other users can upload files only. To access any files that have been uploaded to a drop box, locate the drop box folder in My Storage.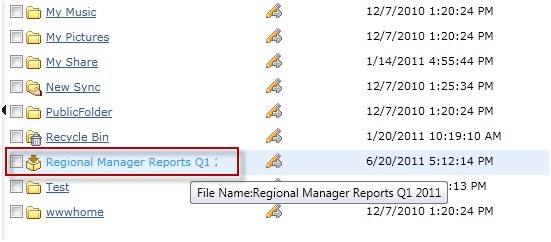 There will now be a new folder titled named "John Smith" (the folder name will match the name typed into the name field). Note: if two different people use the same name when dropping files to the same Drop Box, files will be saved to two different subfolders.
Inside the folder you will see all files uploaded by John Smith. Because John included his email address, phone number, and short message with the upload, they will appear as captions at the top.

DriveHQ's Drop Box Folder feature is much more powerful than other drop box services in that:

- Anybody can upload files to you. DriveHQ membership is not needed. This makes it extremely easy for you to receive files from many people.

- Files dropped into a drop box are secure. By default, nobody can access files in a drop box except the drop box owner.

- A user can create any number of drop boxes for different groups of people;

- Drop box pages can be customized or even hosted on your own website.

- When a new file is dropped into your drop box, it can send an automatic notification email to you.

- Because a drop box is just a special folder, you can use regular folder features with a drop box. For example: you can share a drop box folder with other people and set different permissions or you can synchronize it with a local folder.

- If you just want to drop files for yourself. You can use DriveHQ's remote file server service. You can upload files to your own account and access them from anywhere on any devices.